Category Archives:
Biography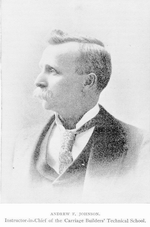 From the Andrew F. Johnson Gallery.
Andrew F. Johnson (1854-1943) – Johnson was born in Nova Scotia in 1854 and left home at age 16 to seek his fortune in the United States. His first job was woodworking with carriage builder Smith & Leslie in Gray, Maine. By 1883 he had moved to America's premier carriage builder, Brewster & Co. in New York City. This allowed Johnson to enroll in the first carriage design school established in the U.S., the Technical School for Carriage Draftsmen and Mechanics. The school's evening classes were held three times each week inside the Metropolitan Museum on Fifth Avenue.
Johnson demonstrated such ability and enthusiasm that he graduated at the top of his class and received an industry scholarship called the Paris Prize. So, in 1885 he was off to Paris, courtesy of the Carriage Builders National Association, to study for five months at the Dupont School. Albert Dupont is largely credited with adapting ship design, which is done in three axes, to the two-dimensional carriage business. Johnson now studied under Dupont, essentially absorbing a post-graduate course from the master of three-dimensional drafting.
In 1892 the New York school's principal died suddenly and Andrew F. Johnson was named the technical school's new chief. He applied the same enthusiasm to his teaching as he had to his studies, often quoting Shakespeare and poets. He would use objects of fine art as examples of good design and show samples from nature to demonstrate the use of color and form.
As the 20th century dawned and demand for horsedrawn vehicles diminished, Johnson adapted the school's focus to automobile design. By 1918 the outdated Carriage Builders National Association ended its support and the school was closed. Feeling a tremendous responsibility to his students, Johnson continued teaching on his own, first in Detroit through Cass Technical High School and then solely through correspondence from Gray, Maine.
Andrew F. Johnson's students are a who's who of American auto industry pioneers including three of the Fisher Brothers, William Durant, Charles Nash, George Mercer, Herman Brunn and Ray Dietrich. He was made a lifetime member of the Society of Automotive Engineers and continued teaching through correspondence nearly until the day he died in late 1943.
Despite his monumental contribution to the birth of automobile design, Johnson never learned to drive. A collection of his lessons and correspondence are housed within the Detroit Public Library's Automotive History Collection.
This website is a digital representation of Andrew Johnson's correspondence course.