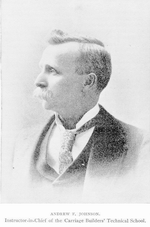 Andrew F. Johnson is not nearly as well known as his students but he can rightly be called the "father of automotive design" because of who his students were, many of the first generation of automakers, body builders and designers. Among his students, either  through the Technical School for Carriage Draftsmen and Mechanics in New York City, where he rose from student to director, Detroit's prestigious Cass Technical High School, where he was brought to teach by the Fisher brothers, or on his own at the Correspondence School For Automobile Body Makers, Designers and Draftsman, which he operated from his home in Gray, Maine, were some of the movers and shakers of the early auto industry. Industrialists like William Durant, who later founded General Motors, Charles Nash, whom Durant hired to run Buick and later started the car company that would bear his own name, and George Mercer, one of the founders of the first independent automobile design company in America, in 1909. Three of the Fisher brothers, who started Fisher Body, later absorbed by GM, were students of Andrew Johnson, as were custom coachbuilders Ray Dietrich and Herman Brunn.
For more on the seminal role that Andrew F. Johnson played in the history of automotive design and styling, please check out Chapter 1 in Michael Lamm and the late David Holl's encyclodpedia of American automotive styling,A Century of Automotive Style: 100 Years of American Car Design, now available on DVD (the hardcover version is now out of print) from either Amazon, or directly from Lamm-Morada Publishing.
When I found out that the Detroit Public Library's National Automotive History Collection had a copy of his correspondence course, I visited the DPL's Skillman branch and took digital photos of all of the originals and cyanotype (blueprint process) copies in the portfolio. Some were loose, some were bound with a cover. It was exciting to see that on some of the originals, Johnson's own handwriting, calculating out diagramatic projections, could be seen in the margins. As far as I have been able to determine, the only other collection of  lesson papers from Johnson's correspondence courses besides the NAHC's is in the Library of Congress, in Washington, D.C. and it's hard to tell from the online catalog records (here and here), just how complete the Library of Congress' Andrew F. Johnson collection is.
What the DPL NAHC has in their collection is not quite a complete copy of the course. The materials in the course are arranged into series of lessons. Series 1 is missing one lesson, Series 2 is mission one lesson, Series 4 is missing 8 lessons, Series 5 is missing 5 lessons, Series 6, which has three lessons, is missing entirely, Series 7 appears to be complete, the 8th Series is missing 8 lessons, the Extra Series is missing 2 lessons, and the Miscellaneous series appears to be missing three lessons. Still, even with those lessons missing, the bulk of the correspondence course is intact, with examples of  at least 87 out of 118 lessons.
It occurred to me that Johnson's course on automotive body design and drafting  deserved to be seen by a wider audience of designers, students of design,  automotive historians and car enthusiasts so I decided to make a digital copy of the documents in the Andrew F. Johnson portfolio at the NAHC. Many of the techniques Johnson pioneered or popularized and taught are still used by automotive designers today, albeit in digital form on computers.
The circumstances for photographing the documents were not ideal, I simply laid them out on a chair underneath my camera's tripod. Since I could not get my camera exactly perpendicular to the documents, there was some keystoning, the images were skewed.  With a photo editor I then did some minimal deskewing and cropping – they're far from perfectly square and aligned, but for the most part they're usable. Some of the documents were only available as cyanotype reproductions, and in a few cases, the blue printing had faded and legibility has suffered. Still, as a whole, it's an amazing artifact of the early days of automotive styling and body building.
The purpose of this site is to be a resource for those historians, students and designers. Blogging software is perfect for providing the materials in an organized manner, so if someone really wants to, they can start at the beginning of the course and do all the lessons in order. Each lesson series is posted under a different category and a Table of Contents page has links, in order, to all the lesson and examination papers. My hope is that this site will  function as an archive or his work and a memorial to the enduring influence on automotive design by Andrew F. Johnson.